We know a lot of you are working from home and overall just very home-centered. If you're thinking about trying to get pregnant in the future or you've already begun, Fertility Goals is for you.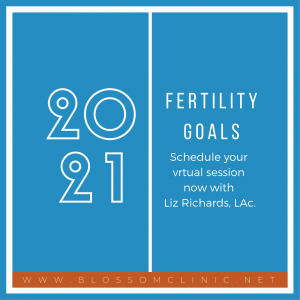 Do you have questions about your fertility but don't know where to start? If so, Liz Richards is ready to help you. Fertility Goals starts with a 1:1 60 min Telehealth Fertility Consultation. Liz, Director of Blossom Clinic, has a passion for helping people on their path towards a healthy pregnancy and baby. With Liz's compassion,  process-oriented approach, and 18 years of experience, you will receive
some of her best tips and recommendations for enhanced fertility
an extensive review of your supplements and vitamins
referrals for the next steps in your fertility journey
a copy of her Nourishing Fertility e-book and Fertility Nutrition handout.
All times are PST and can be done via Zoom. The cost of this session is currently $300.
Let's look forward to our fertility and our future with Fertility Goals 2021! Fertility Goals is the online fertility resource of Liz Richards, L.Ac., owner of Blossom Clinic in Portland, OR. Blossom Clinic is a holistic natural health clinic specializing in fertility and prenatal care. Liz Richards is a licensed acupuncturist and clinical herbalist with over 18 years of treating fertility patients with natural medicine. She is known for her compassion, connection to patients, and process-oriented approach. Liz is the clinic director and owner of Blossom Clinic in Portland, Oregon, and author of Nourishing Fertility: An A-to-Z Guide, a patient-centered e-book filled with her best fertility tips and advice.
Liz Richards is a 1996 graduate of Cornell University where she earned a BS in Human Development & Family Studies and pre-medical sciences.  She also earned a masters degree in Acupuncture and Oriental Medicine from Oregon College of Oriental Medicine in 2002.
Liz Richards is a member of RESOLVE National Infertility Association and National Association of Reproductive Medicine. She is licensed in the states of Oregon and California. She was acknowledged in Portland Monthly Magazine as a top practitioner in her field for seven years running!