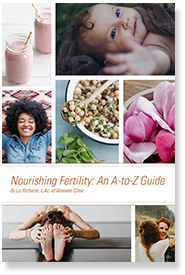 Nourishing Fertility:
An A-To-Z Guide
For a limited time, you will receive, for free, a special "Chinese Energetics Food List" (also know as the Nourishing Fertility Warm Diet) after purchasing the Nourishing Fertility E-book. Your e-book and will be sent to you via email embedded in your paypal confirmation after completing your purchase. If you have any issues, please email us at theblossomclinic@gmail.com We are here for you!
Each section, from A to Z, in this Nourishing Fertility e-book is filled with helpful fertility tips from Liz Richards, L.Ac. Find out why hundreds of women around the world have downloaded this book!