Please welcome our newest acupuncturist, Janene Mitchell, L.Ac! In practice since 2001, Janene Mitchell is new to Blossom Clinic but not to the practice of acupuncture. She comes to us from L.A., where she had a busy practice treating a wide range of conditions including fertility as a Board certified acupuncturist through ABORM. Janene will be seeing patients at Blossom Clinic on Tuesdays 10:30am-7pm and 10am-7pm on Saturdays.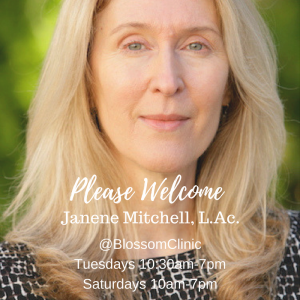 Janene's early interest in women's health drew her to specialty training in fertility and pregnancy care. With a background in music, dance and energetic bodywork she developed a sensitive, intuitive approach.  Janene loves treating women in all stages of their lives – from the fertile years through pregnancies, menopause and beyond.  She also finds it extremely rewarding helping men and women who are having difficulty conceiving.
"I use an integrative approach, combining eastern and western therapies – acupuncture, herbal medicine, aromatherapy & massage with nutritional supplements, diet and exercise.  How we nourish ourselves is of great importance!

And hidden issues like vitamin deficiencies, gluten intolerance, unhealthy intestinal flora or auto-immune responses may need to be addressed to bring your body back into balance.

I've worked with many men and women, helping them create families through natural conceptions or assisted reproductive cycles – providing acupuncture to prepare for IUI or IVF procedures as well as on the day of embryo transfer.  Including the wisdom of Chinese Medicine can improve your chances of having a healthy baby – we'll work together to discover how your diet and lifestyle choices are impacting your fertility."
Janene has more than a decade of experience working with essential oils and includes them in her treatments for their deeply calming and rejuvenating actions, especially their ability to address emotional as well as physical issues.  She is also a certified Chi Nei Tsang practitioner and uses this type of abdominal massage to help regulate menses, improve digestion & elimination, and increase pelvic blood flow.
In over 15 years of practice she has treated a wide range of conditions. Janene works closely with western providers to ensure her patients have the best possible care.  She graduated with highest honors from Yo San University, Los Angeles, CA in 2001 with a Master's Degree in Acupuncture and Traditional Chinese Medicine.  She is licensed in both Oregon and California as an acupuncturist and herbalist.  Board certified in the treatment of infertility since 2009, Janene is a fellow of the American Board of Oriental Reproductive Medicine (ABORM) and a member of the American Society of Reproductive Medicine (ASRM).