Barre3's 28 to Great, Cyber Purging, Meditation and Exercise
contributed by Liz Richards, L.Ac., owner of Blossom Clinic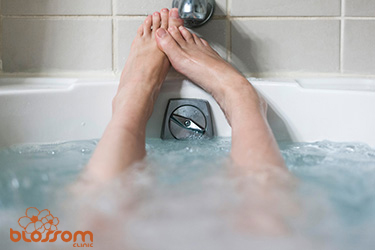 I started out the New Year on a roll.  I engaged in what I call Cyber Purging: I blocked a person on facebook who continuously posted negative diatribes that verged on paranoia and I unsubscribed myself from nearly 40 emails lists that clogged my inbox.  I was so inspired by this that I decided to challenge myself to greater physical and mental health in 2013.
I am an acupuncturist and live a relatively healthy life, but I have recently slipped into some bad habits and my sleep has been terrible.  So I decided to challenge myself to even greater health in the New Year.   In this series of blog posts, I will take you through my month-long effort towards sustainable change.
~WEEK ONE~
Exercise and barre3's 28 to Great:
To inspire myself, I took three "before" pictures on Photo Booth (hey, if you stick around, you might get to see them at the end of the month!).  While I snapped away, my 8 year old said snarkily, "Mom, you're gonna' look the same at the end." I have a feeling that he is right and that in the end it will be the mental changes that will have transformed me the most.  But, there is nothing like taking pictures of yourself un-showered and in bad light to get you motivated.

This week I started up the exercise regime recommended by Barre3's 28 To Great.  If I couldn't make it to an in-studio class, I did a 30 minute online workout (only $15 for the month!) and/or a short stint on my elliptical at home (I had to brush the dust off of that thing). Exercising was more challenging on my work days but I managed to squeeze in 30 minute online workouts at lunch time.   Success!
Diet and Nutrition:
This week I basically psychologically prepped for releasing the beloved baguettes I have been enjoying so freely.  I also bought some food items that I had never used before, like coconut butter and Brazil nuts, and came up with some yummy smoothies.  Here is a recipe for a chocolate banana smoothie that I had this morning.
Lizzie Loves Chocolate Smoothie
1 Tbs sliced almonds
2 brazil nuts
1 Tbs vanilla flavored Maca powder
1 banana (can skip this)
¼-1cup berries or other frozen fruit
1 TBS Maple Syrup
1/2 tsp. cinnamon
1 Tbs. flax seed powder
Hemp Milk to about 2 cups on the blender.  Pour into fancy glass and enjoy!
 Mental Health:
Besides the Cyber Purging mentioned above, I listened to Tara Brach's amazing meditations every night before bed. I basically go to the website, click on one of the 20-30 minute meditations, lie down in my bed and fall asleep by the end.  Brilliant! My current favorite is the Metta Practice mediation that is 30 minutes long.  Metta means "loving-kindness" or a "strong wish for the happiness of others".  It is a really beautiful practice and makes me feel peace and joy afterwards.  And I have been sleeping better since listening to it.  This week I also had a very relaxing 90 minute massage with Kelcy at Blossom Clinic (one of the perks of owning my own clinic, I guess!).  It was glorious.
All in all, I would say that I have had a great week.  I feel more energized and happy.  Stay Tuned for Week 2 which will include participating in the January Jumpstart by Abby's Table and my experience withdrawing from coffee (Oh, fun!).