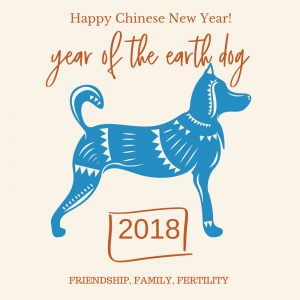 Happy Chinese New Year 2018 : Year of the Earth Dog
Chinese New Year celebrations begin on February 16th. 2018 is the year of the Earth Dog according to the Chinese zodiac. The dog is considered to be lucky so expect many good things to happen this year!
This year will be much calmer compared to last year which was the year of the fiery Rooster. If you were born in the year 1922, 1934, 1946, 1958, 1970, 1982, 1994, 2006, or 2018 the dog is your Chinese zodiac. Dogs are considered loyal, honest, faithful and smart. People with the Dog as their sign tend to be helpful, brave, even tempered and patient. They are fiercely loving and loyal in their relationships. Communication and truth telling are among their strengths.
The Year of the Earth Dog will be a great year for lifestyle changes, a big move, or a new business opportunity. It's an excellent year to make changes to your health especially along the lines of exercise and eating nourishing foods. Food, cooking and gathering with family and friends will be a main focus. Because dogs live in packs, people will work better together for the greater good of the entire community. Friendships will flourish and finding your life partner may come easily.
I personally think one of the best projections for the Year of the Earth Dog is that it will be an exceptional year for fertility and pregnancies!
Happy Chinese New Year 2018!

Here are a few festivities in the Portland area that you can enjoy for the Chinese New Year:

New Year Dragon Dance and Parade 
Some more fun facts about The Year of Dog:
Lucky Numbers: 3, 4, 9
Lucky Flowers: rose and orchids
Lucky Colors: green, red, purple
Celebrities with the Dog as their Chinese zodiac: Michael Jackson, Elvis, Ellen DeGeneres, Cher, Madonna, Sylvester Stallone, Prince William, Kelly Clarkson, Steven Spielberg
If you would like to know what your Chinese zodiac sign is you can find it here.
Contributed by Morgan Hogue, L.Ac.