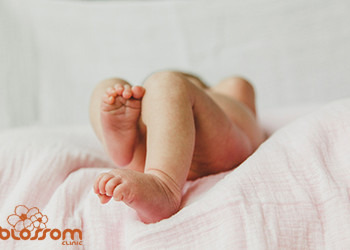 Blossom Clinic now has 3 acupuncturists who can support you through your IVF cycle. If you are looking for embryo transfer acupuncture and IVF support, you have come to the right place.
Liz Richards, owner of Blossom Clinic, began using Traditional Chinese Medicine to support patients undergoing IVF in 2002, around the same time research studies reported that receiving acupuncture treatment on the day of embryo transfer can increase the pregnancy rate by 50 percent.

The Treatment Plan:
Ideally, treatment for this process should begin at least three to six months before the planned IVF cycle. Additional time provides patients with more comprehensive care including weekly acupuncture treatments, herbal therapy, nutritional support and massage. The importance of this cannot be stressed enough.
Research presented in the July 2005 issue of Fertility and Sterility reported that acupuncture can improve sperm quality in men. Early treatment supports the complete cycle of spermatogenesis, which generally takes 72 days.
Acupuncture and herbal therapy can also:
Increase blood flow to the uterus and

Increases circulation in the pelvis

Reduce Stress

Regulate hormones

Stimulate follicular development

Help thicken uterine lining
Embryo Transfer Acupuncture:
Embryo transfer day is crucial in IVF, which generally results in mixed emotions for patients, including excitement, anxiety, fear and stress. Research indicates that increased stress levels lead to a lower number of fertilized eggs, successful pregnancies and live births.
Protocol for this process includes two acupuncture treatments- one immediately preceding the embryo transfer and one upon completion.
This treatment stimulates the autonomic nervous system. From an energetic viewpoint, it also relaxes the muscles of the uterus, calms the mind, and increases the flow of Qi, or energy, in the uterus.
On the day of the embryo transfer Liz meets her patients at the fertility clinic 45 minutes before the scheduled embryo transfer time. Fertility clinics in Portland are familiar with this protocol and are welcoming to acupuncturists.
Please read more on our Blossom Blog here. Or watch our video on acupuncture and IVF. 
"Liz Richards is an amazing acupuncturist.  During my final round of IVF, I was suddenly left without an acupuncturist on my embryo transfer day.  Liz stepped up in that last week, met with me before embryo transfer to give me my first treatment and then accompanied me to my transfer.  We joked that she had magic needles, as I felt my body reacting differently than it ever had before during acupuncture sessions.  It really wasn't a joke, though.  My 6 year old twins (on my 6th embryo transfer and only one with Liz) are proof that she is a miracle worker." M.W., Portland, OR
"I first came upon Liz while  trying to get pregnant and going through fertility treatments. Liz is amazing! She LISTENS and is compassionate and honest. You can tell that she is 100% confident in what she does and has found the career that she was meant to do. She is very educated about women's bodies and hormones and keeps up to date on research and Western medicine's perspective on fertility. Her treatments are very restorative and the clinic is so beautiful and zen and peaceful. If you're trying to get pregnant, go see Liz! It works!" R.H. Portland, OR

In a recent survey of IVF patients who received co-treatment at Blossom Clinic of Portland, Oregon, 100% of survey respondents reported that receiving acupuncture on the day of IVF embryo transfer was "Very Helpful" to them. All respondents received acupuncture weekly leading up to their IVF Embryo Transfer. And most importantly, of the respondents, 83.3% were currently pregnant or had a child after treatment and 11% were pregnant but had an early miscarriage.