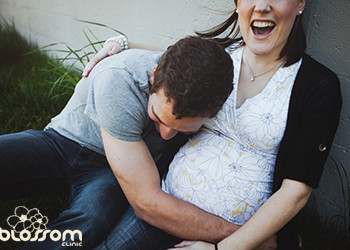 Prenatal Massage / Pregnancy Massage and Self-Care:  The Profound Effect It Can Have On You, Your Birth And Your Baby
I have been a Prenatal Massage Therapist for almost 14 years and I am still amazed by the positive changes it makes in the pregnant body, the birth process and the newborn baby's disposition.  The most significant results happen most often when the expecting mother truly resonates with the care she is receiving and commits to a schedule that includes two to four treatments per month. Of course I encourage all mothers-to-be to seek out however many treatments are possible for them, whether it's only one or every week.  Even just that one treatment will make positive changes.
Structural Changes in the Body and the Benefits of Prenatal Massage:
Let's start by looking at a woman's body prior to pregnancy.  Most of us have a pelvic imbalance in our structure that has been coming on over many years.  It is typically caused by years of repetitive strain, gravity, improper posture and the like.  Once a woman has conceived her body immediately begins to release small amounts of relaxin, a hormone that builds throughout the pregnancy and is instrumental in the relaxation of the mother AND baby's ligaments during the birth process. When mom's hips begin to widen, sacro-iliac pain and/or low back may be a common result. As baby grows and mom begins to take on more weight at her core, she experiences new compensation patterns in her low back and hips.  Releasing the low back, hips and pelvis help keep the body in a more balanced state as it moves through these changes. CranioSacral Therapy is a tool that I use in every prenatal session, as it not only helps to keep the pelvis balanced, it also decreases headaches, encourages a deeper sleep and relaxes the Central Nervous System.
Stress Reduction and Relaxation in Prenatal Massage:
Massage is one of the quickest ways to decrease stress and increase relaxation.  This is perhaps the most important effect.  When we experience stress, we activate the Sympathetic Nervous System, or as most of us know it fight or flight.  In this system we experience muscle tension, shortness of breath, an increase in stress hormones, a decrease in digestion and a decrease in blood and oxygen flow to the uterus and baby.  With massage, as well as other modalities like acupuncture and yoga, you move very quickly into the Parasympathetic Nervous System or a state of balance.  In this relaxed state your body produces endorphins, our bodies natural pain relievers or "happy" hormones, as well as an increase in blood and oxygen to our vital organs, digestion and baby. Regular prenatal massage also releases muscle tension and decreases stagnation as well as reduces stress. This results in a body that is open and even more ready for the magnificent journey of birth!
As you can see, prenatal self-care has numerous benefits for mom and baby.  Every time mom gets treated baby feels and experiences all of the benefits of that treatment. Happy mom = happy baby = more supported birth.
Melissa writes about her positive experience with prenatal massage and her second birth:
I wanted to share my story so that other women can benefit from the great care that I received from Lori Reising as I recovered from my first child's birth and while I was pregnant with my second baby.  After my first baby was born, I was a joyful and tired new mom. However, my body had taken a toll between a very long and challenging labor as well as a new mom breastfeeding with improper posture, which resulted in extremely painful lower back and pelvic tightening.  After two weeks of suffering through it, it became so painful that I could barely walk. I tried every home remedy available as well as physical therapy and nothing seemed to help so I decided to see Lori. After 2 treatments with Lori, I was close to 100% better. She was extremely skilled in knowing the female anatomy and impact that giving birth has that she knew where to target.  I was so thankful to be feeling better so I could enjoy that time with my newborn.

We did not take too much time before trying for the 2nd baby and I got pregnant 4 months after the first was born.  It took my husband and I years to get pregnant so we did not want to waste anytime trying for the 2nd.  I had such great success with Lori that I decided to see her once a week during my 2nd pregnancy because I had concerns that I would be in a similar situation with my back with the second baby and was concerned that I had them so close together that it would take a physical toll on my body. I looked forward to my weekly visits with Lori. She addressed any pregnancy related issue from muscle aches in my back, feet or shoulders, used natural acupressure points to address my sinus infection and digestive issues, and helped reducing my stress and improved my well-being.  Lori's skills go beyond massage in that regard and she is very in touch and knowledgeable about pregnant women. My last appointment with Lori was the night before my due date. I left her office at 6:30pm and had my baby at 8:55pm that night. I was in labor at my appointment and did not realize how far along I was as she helped me work through the labor pains.

I left each visit feeling emotionally, physically, and mentally refreshed for the week which I believe contributed significantly to me having a very happy and healthy pregnancy, a great quick natural birth that was on time, and in the end I had a very content baby. My weekly visits with Lori were worth making the time and financial investment for the results that I got from this visits and I have recommended her to several of my friends and co-workers.

Melissa W.
One Hour Prenatal Massage: $85
90 Minute Prenatal Massage: $115 (recommended)